By Dean Chartier
This is my first effort in writing about my travels here in Egypt, I'm kind of starting in the middle of the trip, odd I know, why not start at the beginning? Well my journey to up the Nile was a pretty amazing trip for me, even though it was kind of touristy. I was able to peel most of the tourism away and have a good look at life in that part of Egypt. I will not speak much of visits to the temples and other historic sites, I'm sure you can find that information elsewhere, and for me it was kind of secondary anyways. This was my first trip to a Muslim country since I became Muslim and my trip up the Nile allowed me to get away from most of the western influence I have seen in Cairo and Alexandria. I will write more about those experiences a little later.
Another reason this was a special experience for me is that being from Canada, I don't get to hear the call to prayer from a Masjid, or have the luxury of having a Masjid within an easy walk of wherever I am.
After finishing a quick tour of Alexandria, it was back to Cairo to get a little sleep before getting up at midnight for the flight Abu Simbel. I was dropped at the airport by representatives of Egypt Culture Tours for my 04:00am flight.  We boarded the airplane about 03:20am or so. All is well. For now!
20 minutes later an older Egyptian lady boarded and demanded to be upgraded to business class because she had hurt her leg. And the drama began! Over the next 2 hours the staff of Egyptair tried in vain to convince the lady that it wouldn't be possible to upgrade her seat, and as the drama unfolded she became more emotional invoking the Prophet Mohammad (صلى الله عليه و سلم) many times. I'm told she kept saying this is not how the Prophet (صلى الله عليه و سلم) would have handled the situation. I tend to agree with her.
Anyways, Egyptair wasn't able to help her; apparently the upgrade she was seeking is actually illegal. Finally about 05:30am a police officer came on board and talked to the lady, and all was well. We left for Abu Simbel shortly after that. Alhamdullilah!!
The rest of the day would be at least 2 hours behind now. It's all good!! It seems I had a connecting flight to Abu Simbel from Aswan, which fortunately was also late, still it was a scramble to make it as it was boarding as we were landing in Aswan. Later I found out that being rather stylishly dressed in a green pinstriped galabeya and matching kufi helps with getting directions and security! More on that in a bit…
Abu Simbel was uneventful after the chaos that is arrival time at the airport. I was paired up with an older gentleman from Connecticut (Ed) and a couple of newlyweds from Texas (Todd and Gina), all very nice.
The Temples at Abu Simbel are definitely worth the trip, even though it's all over in an hour and a half! One thing to note is the aircraft though, the 737's Egyptair uses to do the hop to Abu Simbel are more like a transit bus in Cairo, everyone is jammed in pretty tightly, a minor inconvenience for a 40 minute flight.
Immediately after the tour it was back to the airport to catch the 10am flight to Aswan; it was now 11:30!
Why is it that some Americans and some Europeans seem to think that the world should revolve around them?! There were lots of uptight people being grouchy that every single flight back to Aswan was running at least 2 hours late! I thought it was great! Ed kept saying you should go check to make sure your flight hasn't left yet; I had to keep reminding Ed that the 100 or so Italians who were being very impatient were all I needed to know that my flight hadn't left yet. At last, we finally got back to Aswan about 1pm where the next little drama began to unfold.
Upon arrival at Aswan there was no one to meet me. I called Mostafa – founder of Egypt Culture Tours – who informed me that my driver was waiting in the parking lot. I had been getting compliments all day from the flight crew and security personnel on my galabeya… I passed through security in record time while many of the Italians and Americans were having their bags searched.
One of the luggage attendants, Mohammed, asked me about the galabeya, when I greeted him with Asalamu Alaikum, he asked whether I was a Muslim? I replied yes. He managed to get my bags in 2 minutes! We spent the next 10 minutes chatting while my driver made his way to get me.
The driver, I was told, was an older man who goes by the name Nasser, The man holding the "Mr. Dean" sign outside was a younger man, although after some skilful questioning I determined he was the right person. His name was Nasser and he was to take me to the boat. Turned out that Nasser sent his son Nasser, Jr., to take me in his place.
Aside from the on-board entertainment and the tourist trap vendors, the Cruise itself was amazing.
Egypt has an amazing culture, and you get to see most of it along the Nile in Upper Egypt. The obvious poverty of the people is a little heart wrenching, but they all seem to take it in stride, taking each day as it comes. Subhan Allah!
The call to prayer – Athan – can be heard from seemingly everywhere, it sent chills down my spine, and it was there that I noticed it the most. I'm really going to miss that when I return to Calgary.
The crew on the Farida, operated by Sabena Cruises, was very hospitable. As I was travelling by myself and wearing a galabeya I kind of stood out against a group from Singapore and another from the USA. I received amazing service! However, I found the evening entertainment a little inappropriate and distasteful, at least for my taste.
The second night they held a "galabeya party" so the tourists could dress up like me and get drunk. They also brought in a belly dancer! Seriously! I decided not to attend and relaxed in my cabin instead. It is important to note that Nile Cruises are set up for Western and Asian tourists, not for Muslims.
On a separate note, here is one little travel tip, when you are up on the top deck getting some photography done, make sure your glasses are tied on to something. Mine went overboard somewhere near Edfu, my reading glasses. I was up reading on deck when some papyrus boats came into view; I put my glasses on the railing and grabbed my camera, then the boat turned… oops. At least the photos turned out good! A good thing I decided to bring three pairs with me, since I also managed to sit on my old pair the day before.
In my opinion, the cruise ship bazaars and any business that is close to the main attractions are awful, the vendors are very pushy and slightly dishonest – from one interaction I had trying to buy a bottle of water; the goods they sell aren't of the best quality either, tourist grade if you will. If you want the really good stuff you have to get away from the tourist traps and venture into El Souk (the Market) where the locals shop, you still have to be on your toes for price, but if you show them that you have an idea about the true worth of what you are buying then all is good.
The guides I had were very good, they usually got me what I needed, while I stayed close to the bazaars where from what I understood they can't hassle you unless you start it. However, as annoying as the vendors are, a person has to realize that the rate of unemployment is relatively high this part of the world, and these people are just doing their best to make a living. Although they can make a living off of someone else other than me, the more annoying tourists perhaps, they are easily identifiable, they are rude to everyone around them, and normally act like the world revolves around them.
The first you see as you get off the boat in Luxor is the Luxor temple, an amazing sight.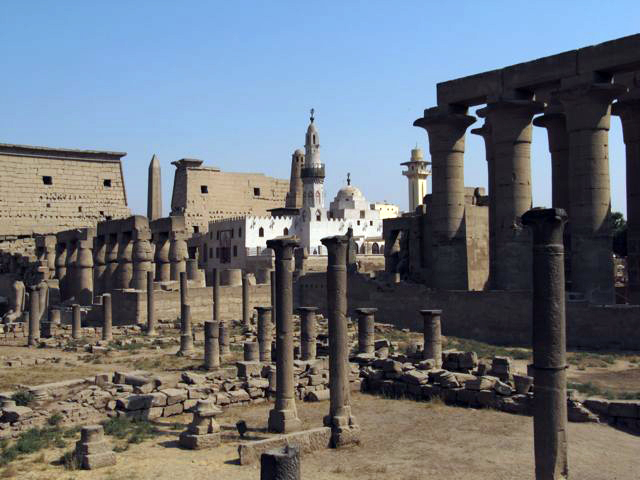 I stayed at the Luxor Hotel, not to be confused with the Hilton Luxor Hotel, still very nice and also overlooking the Nile. One drawback is the fact that they have no Wi-Fi and no internet in the rooms either, so you have to spend EGP40 an hour to use the sketchy internet cafe with monitors that flicker so much that it made my brain hurt!
We arrived in Luxor in time for Eid Al-Adha and Mostafa was in Luxor with a tour and he took me to pray the Eid prayers in the mosque inside the Luxor Temple together. The whole square was completely packed, Subhan Allah!
We could hear the Eid chants around Fajr (dawn prayer), a most amazing experience, and by the looks of it, a lot of the tourists had no idea what was going on! By the time Eid Al-Adha prayer started at about 06:30am there was quite a crowd of tourists watching the proceedings. The khutbah (lecture) was pretty good too, I only managed to pick up some of it because my understanding of Arabic is not that good yet, Mostafa filled in a lot of the holes for me. The khutbah was mostly about the sacrifice of Ibrahim عليه السلام and about the Prophet Muhammad صلى الله عليه و سلم and the sunnah (tradition) of giving to those in need especially during Eid Al-Adha. It was very inspirational.
Afterwards we went for tea at a little place off the main street and I got a couple of Cashmere scarves. The vendors at the market in Luxor where went shopping were confused with the white guy in the galabeya who seemed to know what a fair price is. They kept asking whether I was Egyptian.
Now that the Nile cruise was done it was time to head back to Cairo. I was booked on a sleeper train overnight to Cairo, I had been warned not to do it and to fly instead and I thought how bad could it be? Well it was horrible, the only positive thing I can say about this experience is that the train did leave on time and arrived ahead of schedule.
The cabin wasn't too bad, but the bathroom was beyond disgusting. The conductor thought that we should go to bed right after dinner; logic was that we would be arriving in Cairo at 5am so we all needed to go to bed early! This was actually ok because the windows in the cabin were very dirty, it was impossible to get a good view of the countryside at night.
Upon arrival at Giza I was informed the platform in Giza is about 4 cars too short for all the cars in the train which meant I had to haul my bags from the last car on the train where the supposed "First Class" cabins are up to where I could actually get off the train, then lug them down a set of stairs and then back up another set of stairs to get under the track and up to the station exit, me and about a hundred other people, it was pretty comical.
I recommend taking the plane from Luxor to Cairo, the allure of travelling by train rapidly disappears with your first trip to the bathroom.
Sleeping on the train is also a bit tricky, being at the back of the train, every time the train had to slow down our car would bump into the one in front. However, I finally got some sleep when I got back to the Triumph hotel (my home base here in Cairo).
All things considered, my trip up the Nile was an amazing experience, one that I will not forget soon.
Dean Chartier went on a tour of Egypt and Jordan in November and December 2010. He hailed from Calgary, Alberta, AKA Heart of the New West.
Tags:
Abu Simbel
,
Alexandria
,
Aswan
,
Cruise
,
Culture
,
Egypt
,
Eid Al-Adha
,
Galabeya
,
Giza
,
Luxor
,
Muslim
,
Nile
,
Nile Cruise
,
Sleeper Train
,
Souk