There is a multitude of guides, both online and in print dealing with Egypt. Some better than others, but only a few stand out in terms of the level of research and amount of useful information they involve. And with smartphones and tablets now being the latest human accessories, there are a zillion apps covering travel in Android, iOS, and Windows Phone.
Getting to the best ones is the trick. Here are the Top 8 Egypt Travel Guides—in our humble opinion—in printed form, ordered by publication date. If you are a fan of good old fashioned paper and ink, then make sure to grab one of them before your next trip to Egypt.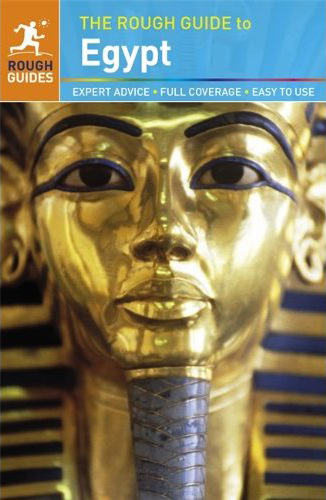 1. The Rough Guide to Egypt (2013):
My first interaction with The Rough Guide to Egypt was the 2008 edition, and it definitely had a different flair than other guides, in that it was not entirely targeted towards the low-budget backpacker, or the very frugal traveller, instead, it was balanced between the two budget extremes; the cost-obsessed and the luxury-obsessed. It's a very thorough guide book and the authors obviously did their homework very well indeed.
However, there are bits of bias here and there, and I think it can be attributed to a little lack in really understanding the culture, and a need to get some of their historical facts from references written by Egyptian historians, especially the parts relating to the Mameluke era onwards. Other than this, I believe it's the best guide to Egypt out there.
You can find the guide right here: The Rough Guide to Egypt
Lonely Planet has its very own appeal that cannot be denied; it's hip, glossy, and cool. It is also the largest travel guide publisher in the world. It is also one of the first series of travel books aimed at backpackers and other low-cost travellers.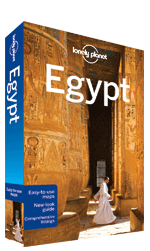 Lonely Planet has two main country guides for Egypt, a detailed version: Lonely Planet – Egypt, and a more focused turbo version: Discover Egypt. Lonely Planet guides are very trusted, and for good reason, they are very informative and are updated regularly, and if a venue gets a positive mention in one of the guides, they can expect a rise in future customers. However, some parts of the country are either not explored altogether, or very briefly touched upon, then again, most travellers, especially low budget ones, won't have the time or the means to venture into unfamiliar territory. Otherwise the guides are loaded with information, some of which you won't find in any other book.
Follow the links to get the books: Egypt (Country Guide)
and Discover Egypt (Country Guide)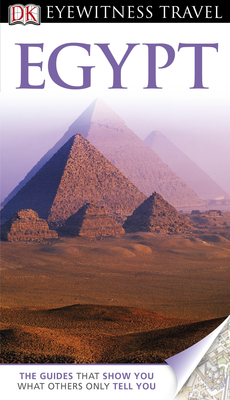 3. DK Eyewitness Travel (2012):
Eyewitness Books (or Eyewitness Guides) might have started out as a series of non-fiction books intended for young adults, covering an assortment of topics from dinosaurs to the solar system, but they have expanded since then into much larger audience by jumping into the travel guide business.
With that explosion they brought with them their very detailed illustrations, their vibrant full colour pictures, and their easy to read text.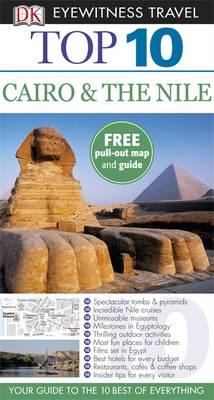 Their Egypt guide series is no less so, with pictures that almost leap at you, they really put their money where their books are with their tagline "The guides that show you what others only tell you".
There are two guides in this series; a regular guide: DK Eyewitness Travel Guide: Egypt and a smaller more agile Top 10 list-based guide: DK Eyewitness Top 10 Travel Guide: Cairo & the Nile. The latter written by Andrew Humphreys who writes the National Geographic Egypt Guide.
Follow the links to get the books: Egypt. (Eyewitness Travel)
and Cairo & the Nile. (Eyewitness Top 10)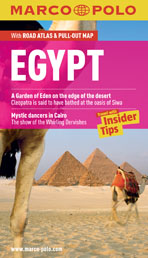 4. Marco Polo Egypt (Full-colour Travel Guide) (2012):
Marco Polo Travel Publishing is a new comer on the travel guide scene, and their guide for Egypt: Marco Polo Egypt: the Travel Guide with Insider Tips is the smallest guide on this list, coming in at only 140 pages!
They seem to try to cram as much information as possible on their pages in a manner that will appeal to the "young" and the "young at heart" according to their website, with a lot of "insider tips" and a pull-out map.
Consider it the indie alternative to the more mainstream travel guides.
You can find the guide right here: Egypt Marco Polo Guide (Marco Polo Guides)
5. Egypt Baedeker Guide (2012):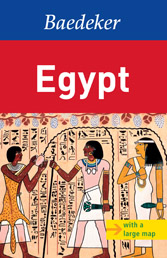 The very first edition of the quintessential travel guide was first published in German in Lower Egypt in 1877, followed by an English version in 1878, Upper Egypt came in 1885, then a unified Egypt guide starting 1898, then from 1908 to 1929 a unified Egypt and Sudan guide. If you can find any of these editions they can fetch upwards of €500.
An updated one is now in print and being published by Marco Polo Travel Publishing (see #4). A full-colour, illustrated guide featuring 3D laminated cut-outs showing the key sights in perspective and a large, fully-indexed, pull-out map.
If this guide manages to live up to the legendary status of its ancestors then it is going to revolutionize travel writing all over again.
You can get yours right here: Egypt Baedeker Guide (Baedeker: Foreign Destinations)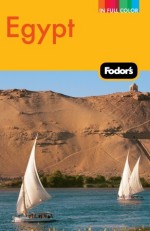 6. Fodor's Egypt (Full-colour Travel Guide) (2011):
These guides are named after the founder Eugene Fodor, a keen traveller who published his first guide in 1936 and it was about Europe. According to Wikipedia, they are the "world's largest publisher of English language travel and tourism information, and the first relatively professional producer of travel guidebooks".
What's particularly good about Fodor's guides is that they go beyond the normal listings and offer some practical useful information, not only about hotels and sights, but also about the people and their culture. Their guide to Egypt does not stray far from that path.
The guide is usually updated annually; however, this edition seems to be the latest so far, and it was published about a month after the January 25, 2011 revolution. An updated copy that reflects the current political changes is definitely in order.
The guide can be found over here: Fodor's Egypt (Full-color Travel Guide)
7. Globetrotter Egypt Travel Pack, 8th (2011):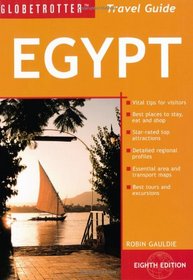 Another little pocket-size guide is packed that offers the major highlights of Egypt, it comes second to the Marco Polo Guide (see #4) at only 128 pages, targeted at first time travellers.
As with Fodor's guide, it needs to be updated, since this edition was published only a few months after Egypt's revolution.
You can get a copy over here: Egypt Travel Pack, 8th (Globetrotter Travel Packs)
8. Footprint Egypt Handbook, 6th (2011):
Another guide that needs updating to reflect the recent political changes in post-revolution Egypt, what makes it special is that it is the only one on this list that is all written by a female author. Ardent traveller and author Vanessa Betts, who actually lived, worked and travelled through Egypt for a number of years.
Follow the link to get a copy here: Egypt Handbook, 6th (Footprint – Handbooks)
A lot of other very respectable guides didn't make the list mostly because they have not been updated in a while; both National Geographic's guide written by Andrew Humphreys and the brilliant Cadogan Egypt guide by renowned Egypt chronicler Michael Haag have not been updated since 2009. They both deserve to be on this list, so maybe once their new editions come out they will take their place right here.
Tags:
Baedeker
,
Cadogan
,
Egypt
,
Eyewitness
,
Featured
,
Fodor
,
Footprint
,
Globetrekker
,
Guide
,
Jan25
,
Lonely Planet
,
Marco Polo
,
NatGeo
,
Rough Guide
,
Travel + Leisure