Back in the early 20th century and the late 19th century travelling was a more relaxed affair; because of the nature of travel at the time which was predominantly by either trains or ships, people were away from their homes for months at a time, and that called for a different kind of hotel.
The extended nature of the stay meant that only the well to do and the wealthy could travel for any sustained period of time, and hotels became a sort of a home away from home. Hotels of the day defined luxury, unlike most fancy hotels of today that are mostly glitz and glamour, those ones were truly palatial and decadent.
Thankfully, many of those hotels are still around, while they might have had some turbulent history, they have been lovingly restored to their former glory, and many retained their old world charm.
A new class of boutique hotels was born in recent years in response to the resurgence of the luxury travel market; they took their cue from the golden age of travel and joined the ranks of the great hotels of the past.
The hotels are listed from North to South, and based on customer reviews on TripAdvisor. The description is edited from the respective hotels' website unless noted otherwise.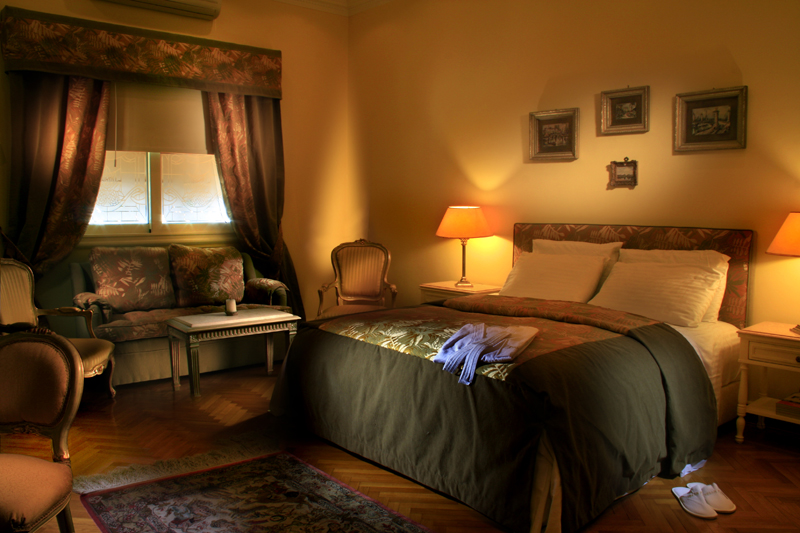 1. La Villa Boutique Hotel, Alexandria:
Built in the early 1920's by Mustafa Fahmy Pasha; the personal architect of King Farouk I, this building has stood there; accommodating royalty and majesty. Having one of the only 2 hand-carved wooden stair cases sent directly from Paris, France, the other which is currently in the Montazah Royal Palace. Along with paintings and antiques from around the world, especially the famous painting of Baroness Marie Alexandrine von Vetsera; the star of the famous Mayerling Palace tragedy in Austria (19 March 1871 – 30 January 1889).
With only 5 rooms and an abundance of charm it will leave you enchanted.
Find the best deal, compare prices, and read what other travellers have to say at TripAdvisor

2. El Salamlek Palace Hotel, Alexandria:
Nestled on a hill overlooking the royal Mediterranean bay, take a journey into the glamorous past, a world of legendary elegance and opulence.
Built in 1892 by the Khedive Abbas Helmi II, the palace was intended to be a hunting lodge and was surrounded by a man made jungle; the grounds were stocked with game for the hunting pleasure of the Khedive and his guests. Over the years the palace served as a royal resort under King Fouad I and during the reign of King Farouk I, the palace was used as his summer office and a guest house for his valuable visitors.
Find the best deal, compare prices, and read what other travellers have to say at TripAdvisor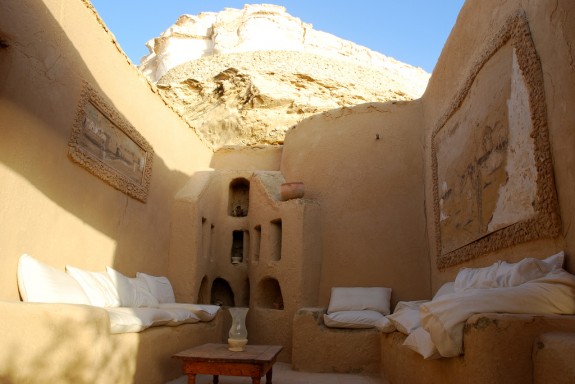 3. Adrère Amellal Desert Ecolodge, Siwa:
An out of this world luxury eco-hotel, set in a corner in the magical, scenic Siwa oasis. The entire hotel is built with locally sourced materials, with nothing imported from outside the immediate perimeter of the hotel. Even the furniture is made from local trees. There's no electricity, no AC's, only time-honoured oil lamps and a natural breeze. [Edited from Spot Cool Stuff]
Find the best deal, compare prices, and read what other travellers have to say at TripAdvisor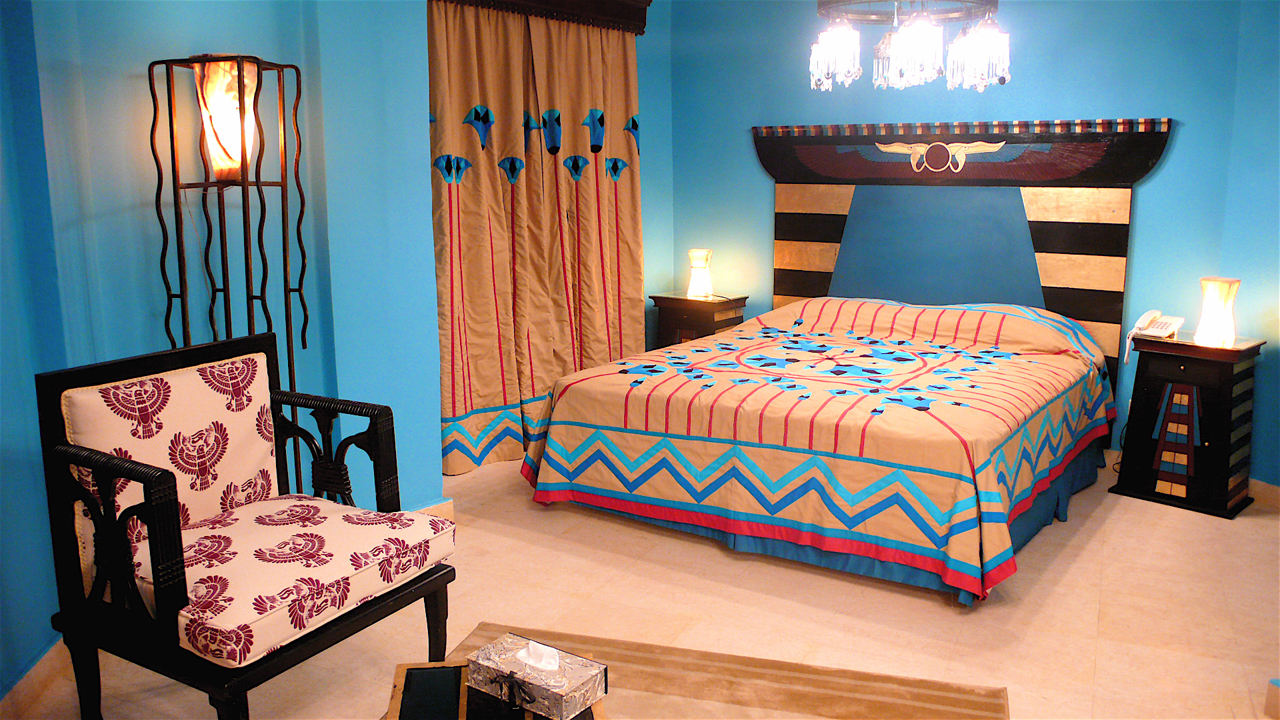 4. Le Riad Hôtel de Charme, Cairo:
Tucked away in The Grand Street of Historic Islamic Cairo—Al-Mu'izz li-Deen Illah Street, sits Le Riad Hôtel de Charme, a mere 5 minutes walking distance from Khan Al-Khalili. With only 17 very private suites facing Al-Darb Al-Asfar alley and its exceptional Ottoman era houses and a roof garden with a panoramic view of the 1000 minarets of Cairo, the ancient city walls, the Moqattam hills, and the citadel of Salah A-Din and the great Mosque of Mohamed Ali.
Set in an old building from the 1960s, it was lovingly transformed by a pair of art lovers; Youssef Takla, a Syrian man and Véronique Sedro, a French woman, with an exquisite dream that turned into a reality of mashrabeyas, antiques and arches invoking the rich history of its surroundings.
Find the best deal, compare prices, and read what other travellers have to say at TripAdvisor

5. Mena House Oberoi, Giza:
One of the most unique and most luxurious hotels in Egypt was originally built as a hunting lodge dubbed the "Mud Hut". It was built in 1869 for Khedive Ismail, and then sold to the couple Frederick and Jessie Head as a private residence, then again sold in 1885 to an English couple Ethel and Hugh Locke-King who expanded on it and turned it into a hotel that opened to the public in 1886 as The Mena House. It was used in both World Wars by the Australians, and then purchased by Rai Bahadur Mohan Singh Oberoi, whose company is still the owner, and in 1890 the hotel opened Egypt's first swimming pool, and that same year it was announced that the hotel would remain open year round.
Over its illustrious history royalty, celebrities, and politicians stayed in it; in fact it was a major player in making history, from Prince Albert Victor of Wales to Churchill, to Sinatra, to Nixon and Chaplin, they all called the hotel home at one point. [From Wikipedia]
Find the best deal, compare prices, and read what other travellers have to say at TripAdvisor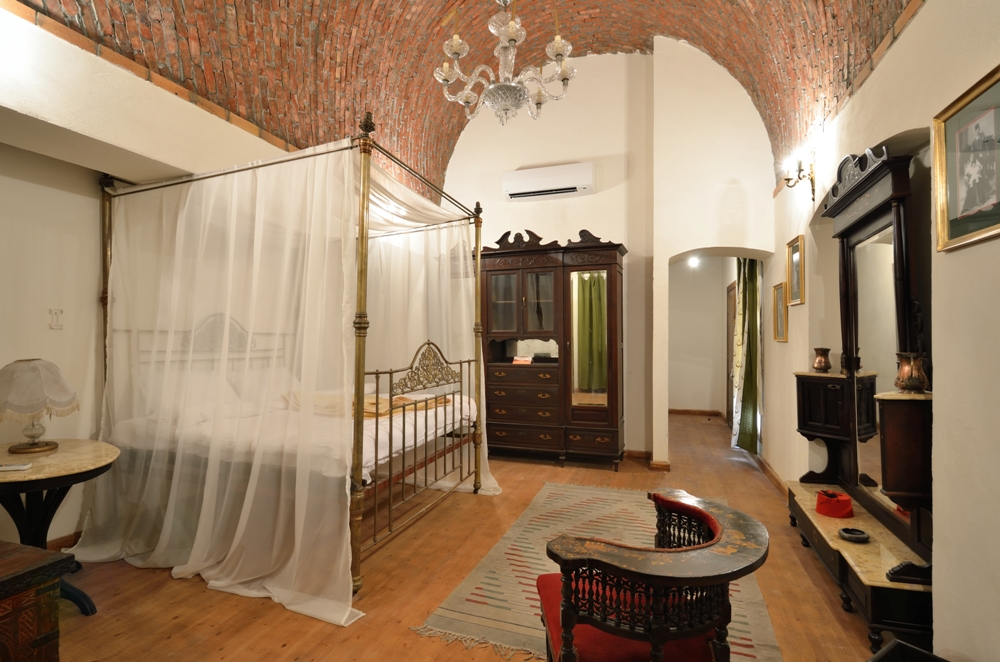 6. Sands Baharia, Bahariya Oasis:
An exquisite eco-friendly boutique lodge in the Bahariya Oasis, a Zen-like hotel built with indigenous material that enhances and adds to its surroundings by way of harmony.
 Nestled within 36 acres of relaxing greenery and rolling hills, it has 8 themed suites and 15 regular rooms, with a plethora of amenities and activities within reach, from desert safaris, to lake-side picnics, and the icing on the cake; it's kids friendly.
Find the best deal, compare prices, and read what other travellers have to say at TripAdvisor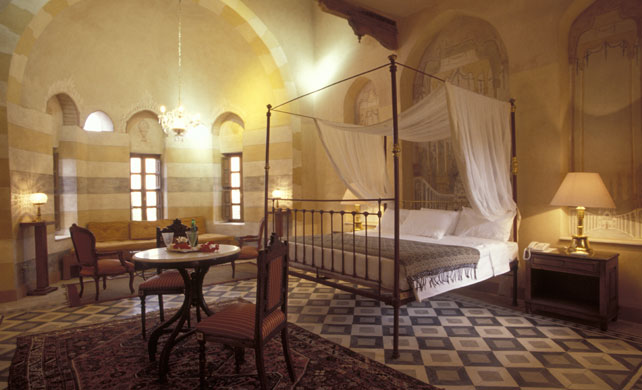 7. Hotel Al Moudira, Luxor:
A marvellous, one of a kind hotel where almost every detail is bespoke; down to the hand-painted tiles, Al Moudira easily occupies the top spot in the Luxor hotel scene, and it is perhaps one of the top 10 in all of Egypt. The owner, Zeina Aboukheir, made sure of that.
With ochre domes, ornate arabesque patios and an eight hectare garden sure to provide you your very own oriental dream. And with only 54 guest rooms, you are definitely going to get pampered.
Find the best deal, compare prices, and read what other travellers have to say at TripAdvisor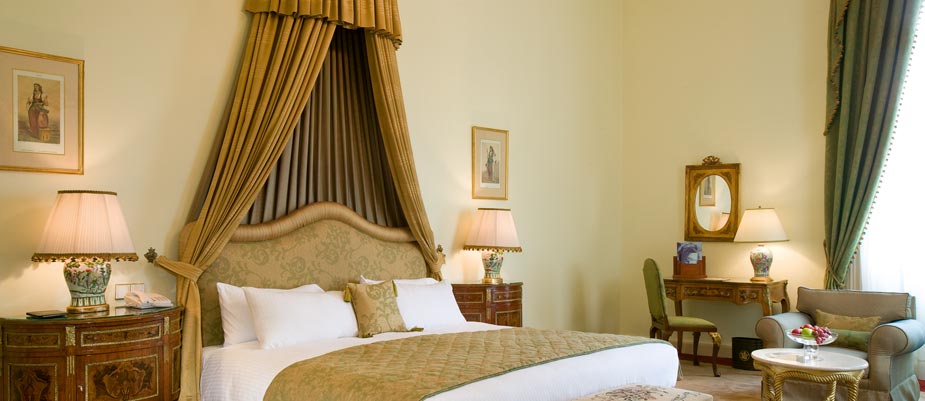 8. Sofitel Winter Palace, Luxor:
Now part of the Sofitel Legend brand, the Winter Palace was built in 1886 in a splendid and luxurious tropical garden and for over a century was the privileged host of royal families from Europe and the East. Today, prestigious guests like Hillary Clinton continue to honour the hotel with their presence. In 1922, the famous archaeologist Howard Carter announced the discovery the tomb of King Tutankhamen from the steps of the entrance to the Winter Palace. Each of the 104 rooms and suites is an invitation to dream, enchanting guests with the colonial charm of this splendid hotel through the delicateness of its woodwork and the elegance of its materials.
Find the best deal, compare prices, and read what other travellers have to say at TripAdvisor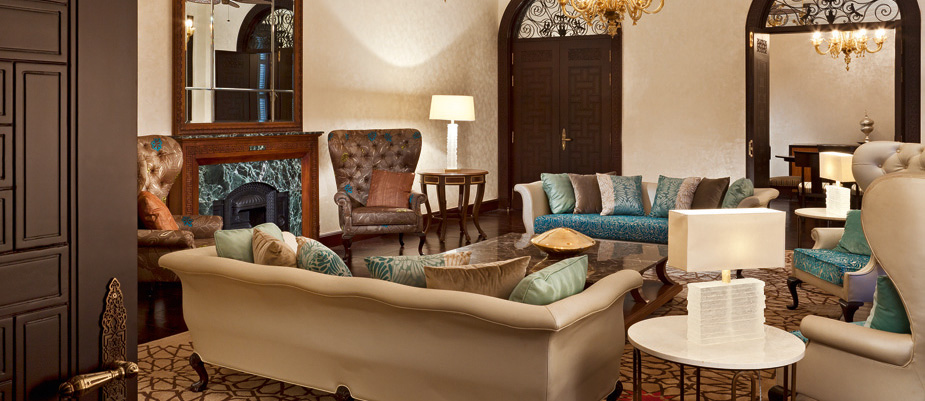 9. Sofitel Legend Old Cataract, Aswan:
Another legendary hotel and another hotel in the Sofitel Legend brand, built in 1899 by Thomas Cook, it was restored to past glories by French interior designer Sybille de Margerie to reveal its iconic heritage enriched with contemporary design.
The Old Cataract is named for its location at the spot where the river meets a granite barrier to create the first cataract of the Nile. The second half of the 19th century is synonymous with prosperity and refinement. Steamships and railroads carried curious travellers deep into Egypt, and the most privileged among them were welcomed at the brand new Old Cataract, an elegant Victorian palace offering state-of-the art amenities and luxurious décor.
Over its 110 years it was host to the crème de la crème, from Tsar Nicholas of Russia, to Sir Winston Churchill, the Duke of Connaught, King Farouk I and Dame Agatha Christie, and it still evokes the same kind of myths it did when it was founded.
Find the best deal, compare prices, and read what other travellers have to say at TripAdvisor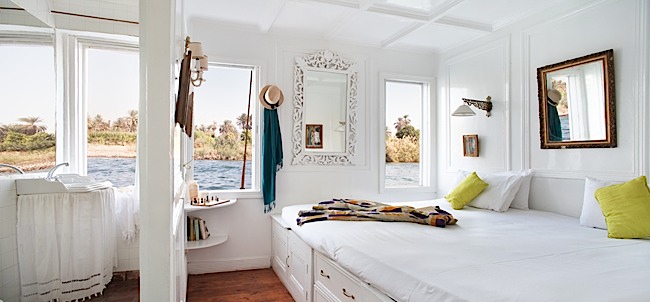 10. Nour El Nil Dahabeieh, Luxor/Aswan:
There's absolutely nothing more relaxing when it comes to travelling than gentle gliding on a river in a sail boat. Now make that river the Nile with the majestic surroundings between Luxor and Aswan, and a Dahabeieh for sail boat, and you are instantly immersed in a fantasy.
Besides a luxurious flight of fancy, Nour El Nil offers something other cruises don't: It takes the longest time to sail from Luxor to Aswan, and stops almost everywhere along the way, so you get to experience what package tourists don't. And with only 10 rooms, it can only accommodate a maximum of 20 passengers.
All you need to do is prepare yourself to join the ranks of legendary 19th century travellers like Amelia Edwards and Pierre Loti.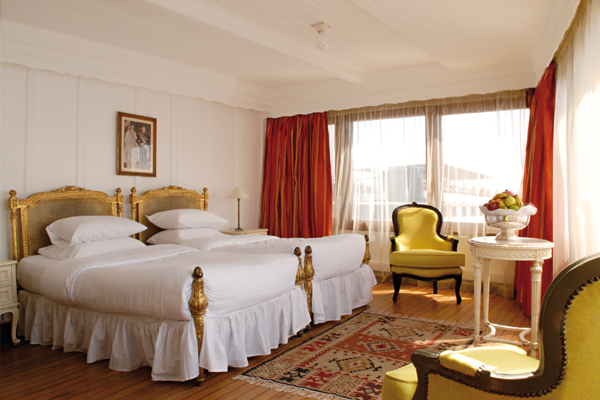 11. Steam Ship Sudan, Luxor/ Aswan:
When I think of steam ships, it conjures images of the Mississippi river in the late nineteenth century and not the Nile, that is, until you meet the Steam Ship Sudan. A boat inhabited by the memory of the King Fouad I who received it as a gift in 1885 with the memory of the Belle Époque travellers who used it.
It has seen a lot in its 127 years; it enjoyed a golden age in the twenties and thirties, then docked at the onslaught of WWII and forgotten for 60 years until its discovery in the year 2000, when it was discovered by Voyageurs du Monde who joined forces with the Egyptian owner to restore it to its original and past glory. And with only 5 suites and 18 cabins you are in for a royal treatment.
The ship was used in the 2004 BBC version of Agatha Christie's Death on the Nile with David Suchet.
A Final Note…
When we started this site our aim was to promote Halal vacationing and travelling, unfortunately, a large number of hotels in Egypt will offer alcohol, and some even have casinos, both of which are not permissible in Islam. However, if you are a Muslim traveller you can ask for the alcohol to be removed from the mini bar (if there's one) and just steer clear of activities that are not allowed. From experience in travelling with my family, I found that having an exceptional vacation and having it be Halal is not impossible to achieve.
Enjoy.
Tags:
Alexandria
,
Aswan
,
Cairo
,
Dahabeieh
,
Dahabiya
,
Featured
,
Giza
,
Luxor
,
Luxury
,
Nile Cruise
,
Siwa
,
Steamship